Steris PLC (NYSE:STE) Director Mohsen Sohi sold 3,609 shares of the stock in a transaction on Wednesday, May 30th. The shares were sold at an average price of $105.01, for a total transaction of $378,981.09. Following the completion of the sale, the director now directly owns 25,302 shares of the company's stock, valued at $2,656,963.02. The sale was disclosed in a filing with the SEC, which is available through the SEC website.
Steris opened at $106.48 on Friday, according to Marketbeat.com. The company has a debt-to-equity ratio of 0.41, a quick ratio of 1.97 and a current ratio of 2.48. Steris PLC has a 12-month low of $80.74 and a 12-month high of $107.97. The company has a market capitalization of $9.04 billion, a PE ratio of 25.66 and a beta of 1.13.
Steris (NYSE:STE) last issued its earnings results on Wednesday, May 9th. The medical equipment provider reported $1.24 earnings per share for the quarter, topping the Zacks' consensus estimate of $1.22 by $0.02. The business had revenue of $716.00 million for the quarter, compared to the consensus estimate of $703.37 million. Steris had a net margin of 11.10% and a return on equity of 11.55%. The firm's revenue for the quarter was up 5.1% on a year-over-year basis. During the same period in the previous year, the company earned $1.11 earnings per share. analysts predict that Steris PLC will post 4.71 EPS for the current fiscal year.
The firm also recently announced a quarterly dividend, which will be paid on Thursday, June 28th. Stockholders of record on Friday, June 8th will be given a $0.31 dividend. The ex-dividend date is Thursday, June 7th. This represents a $1.24 dividend on an annualized basis and a dividend yield of 1.16%. Steris's payout ratio is presently 29.88%.
Separately, Zacks Investment Research lowered shares of Steris from a "buy" rating to a "hold" rating in a research note on Tuesday, June 5th. One analyst has rated the stock with a hold rating and five have given a buy rating to the company. Steris has a consensus rating of "Buy" and an average price target of $87.80.
Several institutional investors have recently made changes to their positions in the company. Captrust Financial Advisors bought a new stake in Steris during the fourth quarter worth about $101,000. Meeder Asset Management Inc. lifted its position in Steris by 1,122.4% during the fourth quarter. Meeder Asset Management Inc. now owns 1,198 shares of the medical equipment provider's stock worth $104,000 after purchasing an additional 1,100 shares during the period. YorkBridge Wealth Partners LLC bought a new stake in Steris during the fourth quarter worth about $113,000. Hanson & Doremus Investment Management bought a new stake in Steris during the first quarter worth about $140,000. Finally, Zions Bancorporation acquired a new position in Steris during the first quarter worth about $200,000. 90.69% of the stock is owned by institutional investors.
Steris Company Profile
STERIS plc develops, manufactures, and markets infection prevention, contamination control, microbial reduction, and surgical and gastrointestinal support products and services for healthcare, pharmaceutical, scientific, research, industrial, and governmental customers worldwide. The company's Healthcare Products segment offers steam, vaporized hydrogen peroxide, and ethylene oxide sterilizers, as well as liquid chemical sterilant processing systems; automated washer/disinfector systems; general and specialty surgical tables, surgical and examination lights, equipment management systems, operating room storage cabinets, warming cabinets, scrub sinks, and other accessories; and gastrointestinal devices and accessories.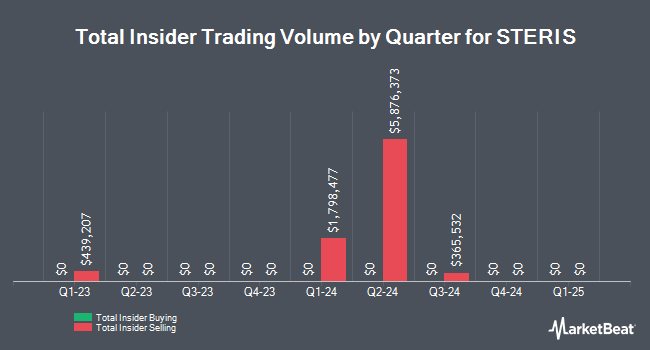 Receive News & Ratings for Steris Daily - Enter your email address below to receive a concise daily summary of the latest news and analysts' ratings for Steris and related companies with MarketBeat.com's FREE daily email newsletter.