Clinigen Group (LON:CLIN)'s stock had its "buy" rating reissued by research analysts at Numis Securities in a research report issued to clients and investors on Tuesday, July 17th.
Several other brokerages have also recently commented on CLIN. Peel Hunt reissued a "buy" rating on shares of Clinigen Group in a research report on Tuesday, July 3rd. Berenberg Bank reissued a "buy" rating and set a GBX 1,160 ($15.02) price target on shares of Clinigen Group in a research report on Wednesday, May 23rd. Five investment analysts have rated the stock with a buy rating, The stock has a consensus rating of "Buy" and a consensus price target of GBX 1,260.60 ($16.32).
Shares of Clinigen Group traded up GBX 4 ($0.05), reaching GBX 1,019 ($13.19), during mid-day trading on Tuesday, MarketBeat.com reports. 116,126 shares of the stock were exchanged, compared to its average volume of 432,646. Clinigen Group has a one year low of GBX 751.50 ($9.73) and a one year high of GBX 1,187 ($15.37).
Clinigen Group Company Profile
Clinigen Group plc operates as a specialty pharmaceutical and services company. Its Clinigen Clinical Trial Services segment supplies and manages commercial medical products for use in clinical studies, including comparator drugs, adjuvant drugs, and rescue therapies. The company's Idis Managed Access segment is involved in the consultancy, development, management, and implementation of managed access programs for biotechnology and pharmaceutical companies.
Featured Story: Understanding Average Daily Trade Volume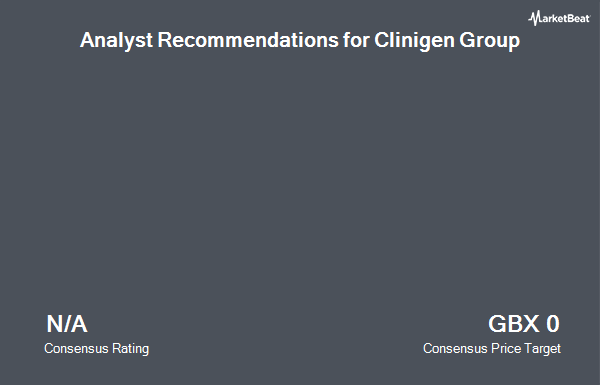 Receive News & Ratings for Clinigen Group Daily - Enter your email address below to receive a concise daily summary of the latest news and analysts' ratings for Clinigen Group and related companies with MarketBeat.com's FREE daily email newsletter.