Brooks Macdonald Group plc (LON:BRK) announced a dividend on Thursday, September 20th, Upcoming.Co.Uk reports. Shareholders of record on Thursday, September 27th will be paid a dividend of GBX 30 ($0.39) per share on Friday, November 2nd. This represents a dividend yield of 1.5%. The ex-dividend date of this dividend is Thursday, September 27th. This is a boost from Brooks Macdonald Group's previous dividend of $17.00. The official announcement can be seen at this link.
Shares of BRK remained flat at $GBX 1,822.50 ($23.81) during trading on Friday. 3,740 shares of the company's stock were exchanged, compared to its average volume of 4,657. Brooks Macdonald Group has a 1-year low of GBX 1,810 ($23.65) and a 1-year high of GBX 2,582 ($33.74).
A number of equities research analysts have weighed in on the stock. Numis Securities cut shares of Brooks Macdonald Group to an "add" rating and dropped their price target for the company from GBX 2,300 ($30.05) to GBX 2,210 ($28.88) in a research report on Monday, October 8th. Peel Hunt lifted their price objective on shares of Brooks Macdonald Group from GBX 2,150 ($28.09) to GBX 2,500 ($32.67) and gave the company a "buy" rating in a report on Thursday, September 20th. Finally, Canaccord Genuity restated a "buy" rating and issued a GBX 2,285 ($29.86) price objective on shares of Brooks Macdonald Group in a report on Thursday, July 26th. Two investment analysts have rated the stock with a hold rating and four have given a buy rating to the company. Brooks Macdonald Group currently has a consensus rating of "Buy" and a consensus target price of GBX 2,230 ($29.14).
Brooks Macdonald Group Company Profile
Brooks Macdonald Group plc, through its subsidiaries, provides a range of investment and wealth management services to private clients, pension funds, charities, professional intermediaries, and trustees in the United Kingdom and internationally. It operates through four segments: Investment Management, Financial Planning, Funds and Property Management, and International.
Read More: What are the Benefits of Index Funds?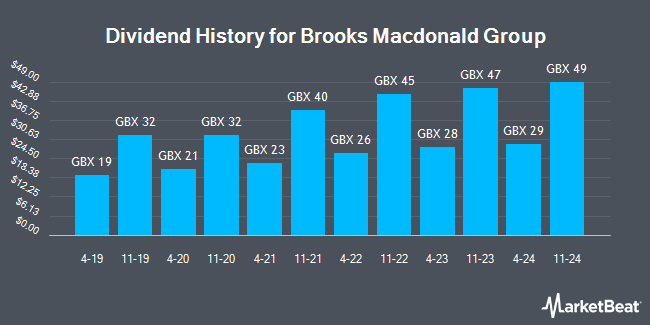 Receive News & Ratings for Brooks Macdonald Group Daily - Enter your email address below to receive a concise daily summary of the latest news and analysts' ratings for Brooks Macdonald Group and related companies with MarketBeat.com's FREE daily email newsletter.