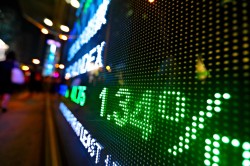 Medica Group PLC (LON:MGP) insider John Michael Graham sold 1,350,000 shares of the stock in a transaction dated Friday, September 21st. The stock was sold at an average price of GBX 157 ($2.05), for a total transaction of £2,119,500 ($2,769,502.16).
MGP stock opened at GBX 130.60 ($1.71) on Friday. Medica Group PLC has a fifty-two week low of GBX 135 ($1.76) and a fifty-two week high of GBX 242 ($3.16).
The company also recently announced a dividend, which will be paid on Friday, October 26th. Investors of record on Thursday, September 27th will be paid a dividend of GBX 0.75 ($0.01) per share. The ex-dividend date is Thursday, September 27th. This represents a dividend yield of 0.5%.
Separately, Berenberg Bank reissued a "buy" rating and set a GBX 230 ($3.01) price target on shares of Medica Group in a research report on Friday, August 10th.
About Medica Group
Medica Group Plc provides teleradiology reporting services to NHS trusts and other customers in the United Kingdom. It offers same day routine teleradiology, radiographer plain film, NightHawk emergency CT and MR reporting, Dayhawk fast daytime, and CT colonography reporting services. The company also provides audit services, such as cause for concern audit, departmental quality assurance, and ongoing CT, MR, plain film, and ultrasound audit services; and specialist services.
See Also: Growth Stocks, What They Are, What They Are Not
Receive News & Ratings for Medica Group Daily - Enter your email address below to receive a concise daily summary of the latest news and analysts' ratings for Medica Group and related companies with MarketBeat.com's FREE daily email newsletter.