Micron Technology (NASDAQ:MU) issued an update on its first quarter earnings guidance on Thursday morning. The company provided EPS guidance of $2.87-3.02 for the period, compared to the Thomson Reuters consensus EPS estimate of $3.06. The company issued revenue guidance of $7.9-8.3 billion, compared to the consensus revenue estimate of $8.42 billion.
Micron Technology stock opened at $42.47 on Friday. The company has a debt-to-equity ratio of 0.20, a quick ratio of 2.06 and a current ratio of 2.63. Micron Technology has a 1-year low of $37.52 and a 1-year high of $64.66. The company has a market cap of $52.46 billion, a P/E ratio of 3.59, a PEG ratio of 0.69 and a beta of 1.55.
Micron Technology (NASDAQ:MU) last released its quarterly earnings results on Thursday, September 20th. The semiconductor manufacturer reported $3.53 EPS for the quarter, topping the Zacks' consensus estimate of $3.33 by $0.20. Micron Technology had a net margin of 46.51% and a return on equity of 54.94%. The business had revenue of $8.44 billion during the quarter, compared to analysts' expectations of $8.25 billion. During the same quarter in the previous year, the company earned $2.02 EPS. The business's quarterly revenue was up 37.5% compared to the same quarter last year. Research analysts expect that Micron Technology will post 10.4 EPS for the current year.
MU has been the subject of a number of research reports. Macquarie set a $70.00 price target on shares of Micron Technology and gave the company a buy rating in a research report on Friday, September 21st. ValuEngine cut shares of Micron Technology from a buy rating to a hold rating in a research report on Monday, July 2nd. Barclays increased their price target on shares of Micron Technology to $67.00 and gave the company an overweight rating in a research report on Thursday, June 21st. BidaskClub cut shares of Micron Technology from a buy rating to a hold rating in a research report on Tuesday, July 24th. Finally, Cowen set a $62.00 price target on shares of Micron Technology and gave the company a buy rating in a research report on Thursday. Two research analysts have rated the stock with a sell rating, nine have given a hold rating, twenty have issued a buy rating and two have given a strong buy rating to the company's stock. The company presently has a consensus rating of Buy and a consensus target price of $68.42.
In related news, SVP Steven L. Thorsen, Jr. sold 40,000 shares of the stock in a transaction dated Friday, July 20th. The shares were sold at an average price of $55.09, for a total value of $2,203,600.00. Following the completion of the transaction, the senior vice president now directly owns 126,990 shares in the company, valued at approximately $6,995,879.10. The sale was disclosed in a document filed with the SEC, which can be accessed through this hyperlink. 0.53% of the stock is owned by company insiders.
About Micron Technology
Micron Technology, Inc provides semiconductor systems worldwide. The company operates through four segments: Compute and Networking Business Unit, Storage Business Unit, Mobile Business Unit, and Embedded Business Unit. It offers DDR3 and DDR4 DRAM products for computers, servers, networking devices, communications equipment, consumer electronics, automotive, and industrial applications; lower power DRAM products for smartphones, tablets, automotive, laptop computers, and other mobile consumer device applications; DDR2 DRAM and DDR DRAM, GDDR5 and GDDR5X DRAM, SDRAM, and RLDRAM products for networking devices, servers, consumer electronics, communications equipment, computer peripherals, and automotive and industrial applications, as well as for computer memory upgrades; and hybrid memory cube semiconductor memory devices.
Recommended Story: Analyzing a company's cash flow statement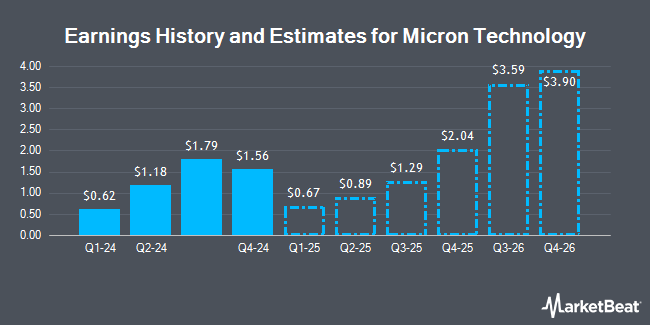 Receive News & Ratings for Micron Technology Daily - Enter your email address below to receive a concise daily summary of the latest news and analysts' ratings for Micron Technology and related companies with MarketBeat.com's FREE daily email newsletter.