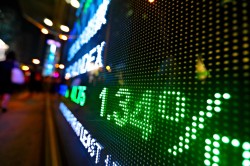 Shares of China New Borun Corp (NYSE:BORN) reached a new 52-week low during trading on Thursday . The company traded as low as $0.90 and last traded at $0.90, with a volume of 29604 shares changing hands. The stock had previously closed at $0.93.
The company has a market cap of $23.15 million, a P/E ratio of 0.87 and a beta of 1.16.
TRADEMARK VIOLATION WARNING: This news story was posted by Equities Focus and is the sole property of of Equities Focus. If you are viewing this news story on another site, it was copied illegally and republished in violation of US and international trademark & copyright law. The original version of this news story can be viewed at https://www.equitiesfocus.com/2018/12/08/china-new-borun-born-sets-new-52-week-low-at-0-90.html.
China New Borun Company Profile (NYSE:BORN)
China New Borun Corporation produces and distributes corn-based edible alcohol in the People's Republic of China. It operates in two segments, Corn-Base Edible Alcohol and its By-Products, and Chemical Products. The company offers edible alcohol products for use as an ingredient to producers of baijiu, a grain-based alcoholic beverage; and by-products of edible alcohol, such as distillers dried grains with solubles feed, liquid carbon dioxide, and crude corn oil.
See Also: Cost of Equity
Receive News & Ratings for China New Borun Daily - Enter your email address below to receive a concise daily summary of the latest news and analysts' ratings for China New Borun and related companies with MarketBeat.com's FREE daily email newsletter.