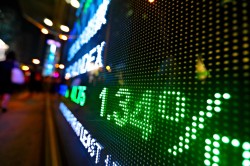 Spectra7 Microsystems (CVE:SEV) had its target price cut by research analysts at Canaccord Genuity from C$0.09 to C$0.05 in a research note issued on Thursday, BayStreet.CA reports.
Separately, Eight Capital dropped their price objective on shares of Spectra7 Microsystems from C$0.15 to C$0.10 in a report on Tuesday, March 19th.
About Spectra7 Microsystems
Spectra7 Microsystems Inc is a Canada-based consumer connectivity company. The Company delivers bandwidth, speed and resolution to enable industrial design for consumer electronics manufacturers in virtual reality (VR), augmented reality (AR), wearable computing, data centers and ultra-high definition (HD) displays.
See Also: How to start trading in the forex market?
Receive News & Ratings for Spectra7 Microsystems Daily - Enter your email address below to receive a concise daily summary of the latest news and analysts' ratings for Spectra7 Microsystems and related companies with MarketBeat.com's FREE daily email newsletter.