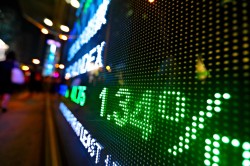 Prize Mining Co. (CVE:PRZ)'s stock price hit a new 52-week low on Thursday . The company traded as low as C$0.02 and last traded at C$0.02, with a volume of 7400 shares changing hands. The stock had previously closed at C$0.03.
The firm has a market cap of $4.49 million and a P/E ratio of -0.26. The company's 50 day simple moving average is C$0.03.
Prize Mining (CVE:PRZ) last announced its earnings results on Monday, April 29th. The company reported C($0.01) earnings per share for the quarter, meeting the Zacks' consensus estimate of C($0.01).
About Prize Mining (CVE:PRZ)
Prize Mining Corporation engages in the acquisition and exploration of mining properties in Canada and Mexico. It focuses on exploring gold, silver, and copper deposits. The company holds 100% interest in the Manto Negro Copper Property that consists of 7 mining concession located in the state of Coahuila, Mexico; and holds an option to earn a 80% Kena and Daylight properties located in British Columbia, Canada.
Featured Story: What is the Coverage Ratio?
Receive News & Ratings for Prize Mining Daily - Enter your email address below to receive a concise daily summary of the latest news and analysts' ratings for Prize Mining and related companies with MarketBeat.com's FREE daily email newsletter.