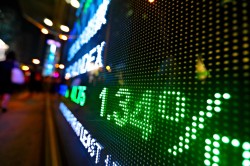 TDH Holdings Inc (NASDAQ:PETZ) saw a significant increase in short interest in June. As of June 15th, there was short interest totalling 87,300 shares, an increase of 48.2% from the May 15th total of 58,900 shares. Based on an average daily trading volume, of 166,500 shares, the short-interest ratio is presently 0.5 days. Currently, 14.3% of the company's stock are short sold.
An institutional investor recently raised its position in TDH stock. Virtu Financial LLC boosted its holdings in TDH Holdings Inc (NASDAQ:PETZ) by 130.5% in the first quarter, according to its most recent Form 13F filing with the SEC. The fund owned 31,644 shares of the company's stock after purchasing an additional 17,916 shares during the period. Virtu Financial LLC owned about 0.34% of TDH worth $29,000 at the end of the most recent reporting period. 2.12% of the stock is owned by institutional investors.
NASDAQ PETZ traded down $0.05 during trading on Thursday, hitting $0.84. 586 shares of the company traded hands, compared to its average volume of 158,286. TDH has a 12 month low of $0.44 and a 12 month high of $5.86. The business's fifty day simple moving average is $0.67.
TDH Company Profile
TDH Holdings, Inc engages in the development, manufacture, and sale of pet food products for pet owners worldwide. It offers approximately 200 products, which include 6 product lines consisting of pet chews, dried pet snacks, wet canned pet food, dental health snacks, baked pet biscuits, and other products for dogs and cats, as well as non-food items.
See Also: How does equity income fit into an investing strategy?
Receive News & Ratings for TDH Daily - Enter your email address below to receive a concise daily summary of the latest news and analysts' ratings for TDH and related companies with MarketBeat.com's FREE daily email newsletter.