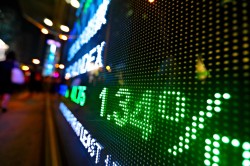 Zacks Investment Research lowered shares of Mail Ru Group (OTCMKTS:MLRYY) from a buy rating to a hold rating in a report published on Tuesday, Zacks.com reports.
According to Zacks, "Mail.ru Group Ltd. offers internet services. The Company offers email service, internet portal, social networks, online games, maps and navigation as well as messaging services. Mail.ru Group Ltd. is based in Moscow, Russian Federation. "
A number of other research firms also recently weighed in on MLRYY. Citigroup began coverage on Mail Ru Group in a research note on Tuesday, April 21st. They set a buy rating on the stock. JPMorgan Chase & Co. decreased their price objective on Mail Ru Group from $19.00 to $18.00 and set a neutral rating for the company in a report on Friday, April 24th.
MLRYY stock opened at $29.40 on Tuesday. The stock's 50 day simple moving average is $26.07 and its 200 day simple moving average is $20.35. Mail Ru Group has a fifty-two week low of $12.75 and a fifty-two week high of $29.40. The company has a market cap of $6.35 billion, a P/E ratio of 18.61 and a beta of 1.18.
Mail Ru Group (OTCMKTS:MLRYY) last posted its quarterly earnings results on Thursday, July 23rd. The company reported $0.21 earnings per share for the quarter. The firm had revenue of $319.34 million for the quarter. Equities analysts predict that Mail Ru Group will post 0.51 EPS for the current year.
Mail Ru Group Company Profile
Mail.ru Group Limited operates as an Internet company in primarily in Russia and other CIS states. The company operates through Email, Portal and IM; Vkontakte (VK); Social Networks; Online Games; and E-commerce, Search and Other Services. It operates Pochta Mail.ru, an email service; Cloud Mail.ru, a service to store files in the cloud; Poisk Mail.ru, a search engine; Youla, a location-based marketplace; and Delivery Club, food delivery service, as well as VK, OK, and My World social networks.
See Also: Discover Your Risk Tolerance

Get a free copy of the Zacks research report on Mail Ru Group (MLRYY)
For more information about research offerings from Zacks Investment Research, visit Zacks.com
Receive News & Ratings for Mail Ru Group Daily - Enter your email address below to receive a concise daily summary of the latest news and analysts' ratings for Mail Ru Group and related companies with MarketBeat.com's FREE daily email newsletter.