Seanergy Maritime (NASDAQ:SHIP) is set to post its quarterly earnings results before the market opens on Wednesday, November 18th. Analysts expect Seanergy Maritime to post earnings of $0.10 per share for the quarter.
Shares of NASDAQ SHIP traded down $0.01 during mid-day trading on Tuesday, reaching $0.48. The company had a trading volume of 59,150 shares, compared to its average volume of 4,027,246. The company has a current ratio of 0.16, a quick ratio of 0.15 and a debt-to-equity ratio of 0.24. The stock has a market cap of $32.35 million, a PE ratio of -0.15 and a beta of 0.73. The company has a 50-day moving average price of $0.47 and a two-hundred day moving average price of $0.66. Seanergy Maritime has a 1-year low of $0.39 and a 1-year high of $9.28.
Separately, Zacks Investment Research cut Seanergy Maritime from a "buy" rating to a "hold" rating in a research report on Thursday, October 29th.
Seanergy Maritime Company Profile
Seanergy Maritime Holdings Corp., an international shipping company, engages in the seaborne transportation of dry bulk commodities worldwide. It owns a fleet of ten Capesize bulk carriers with a cargo-carrying capacity of approximately 1,748,581 deadweight tons and an average fleet age of 11 years. The company is headquartered in Athens, Greece.
Featured Article: Discover Your Risk Tolerance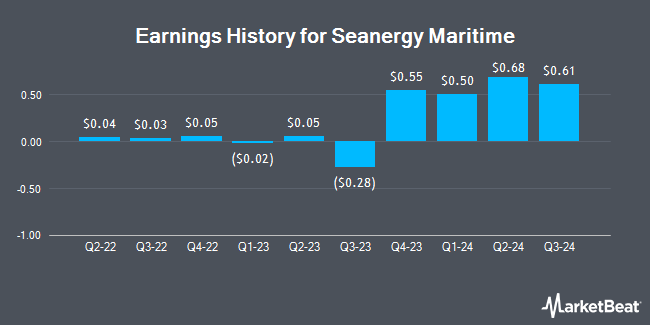 Receive News & Ratings for Seanergy Maritime Daily - Enter your email address below to receive a concise daily summary of the latest news and analysts' ratings for Seanergy Maritime and related companies with MarketBeat.com's FREE daily email newsletter.